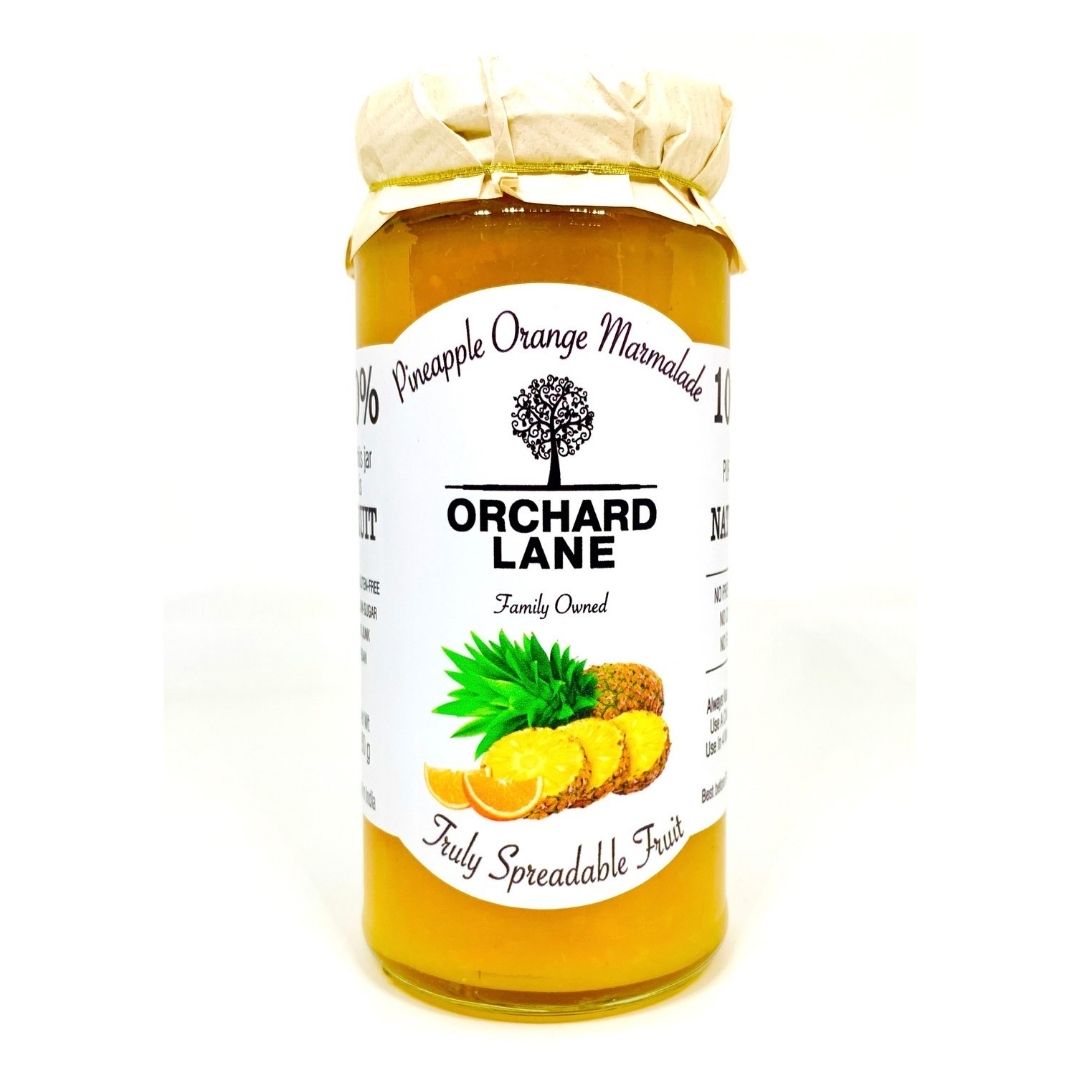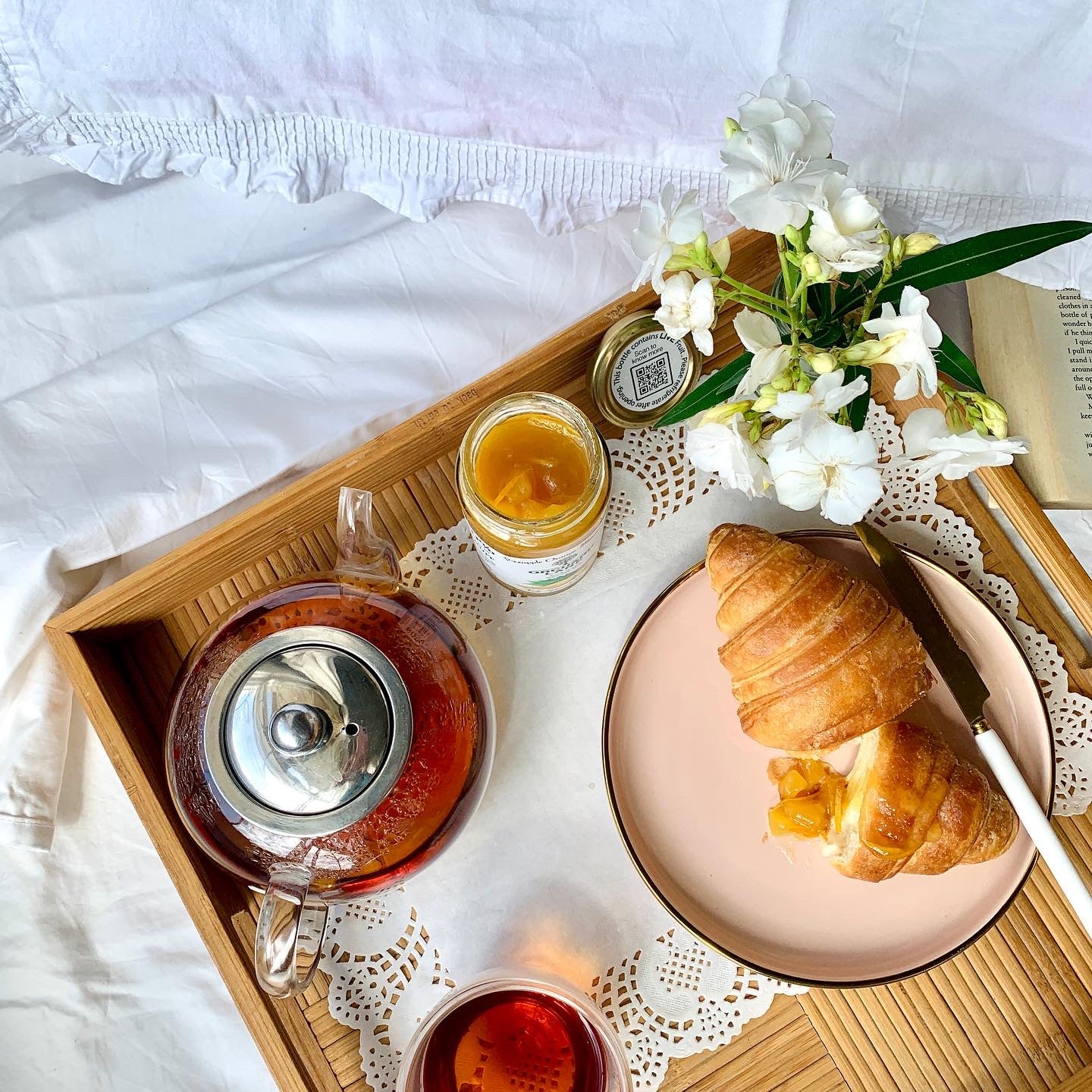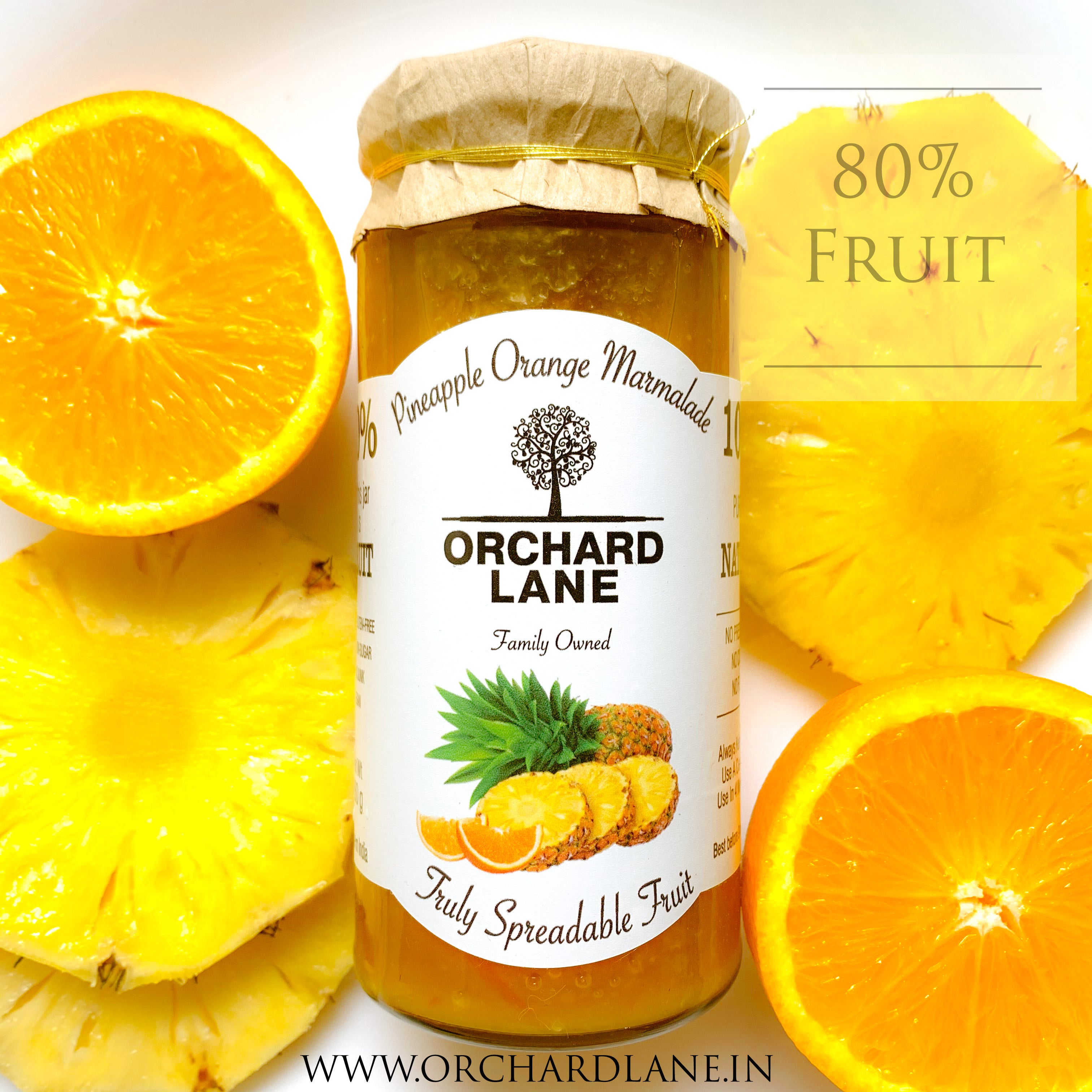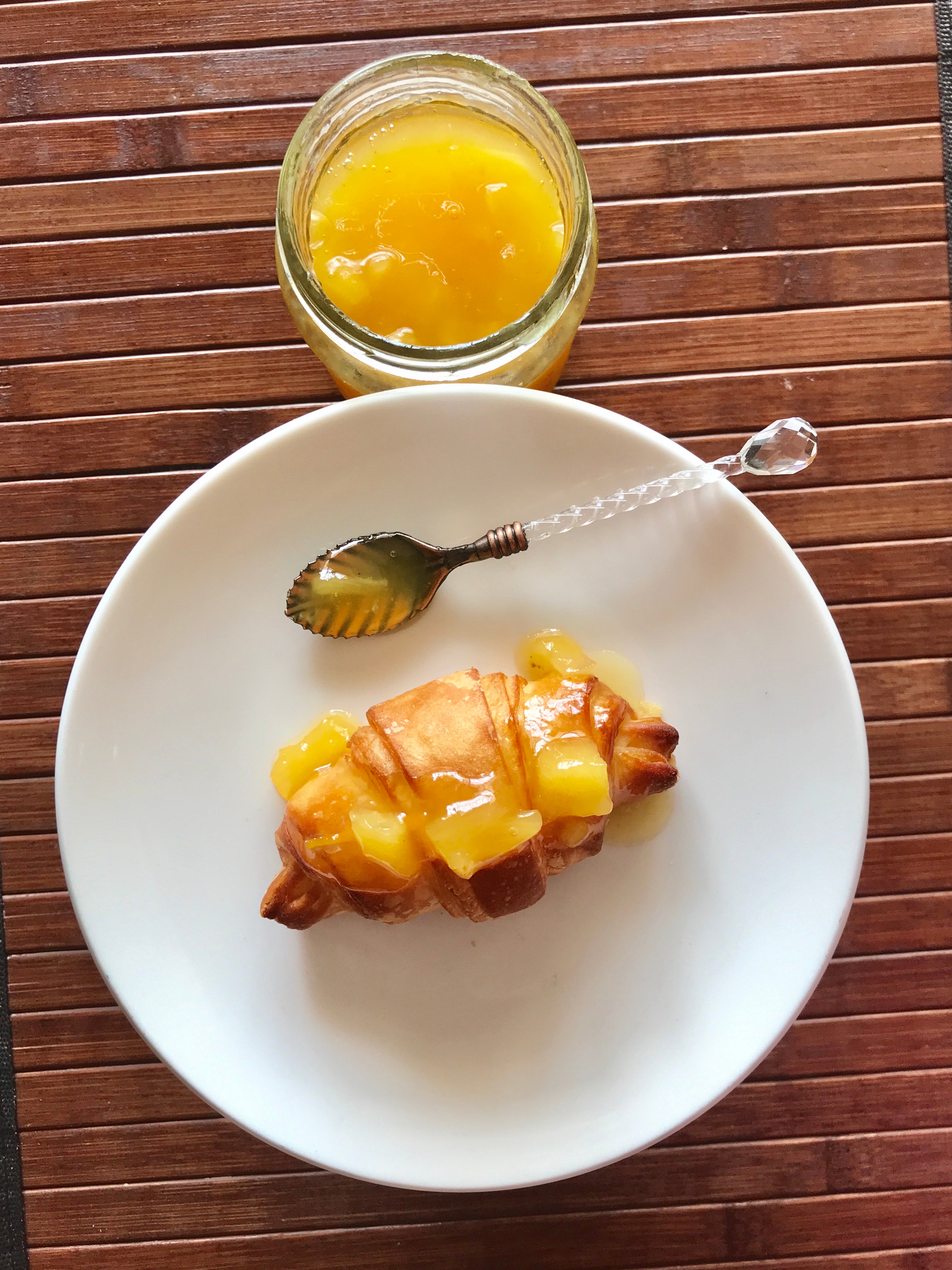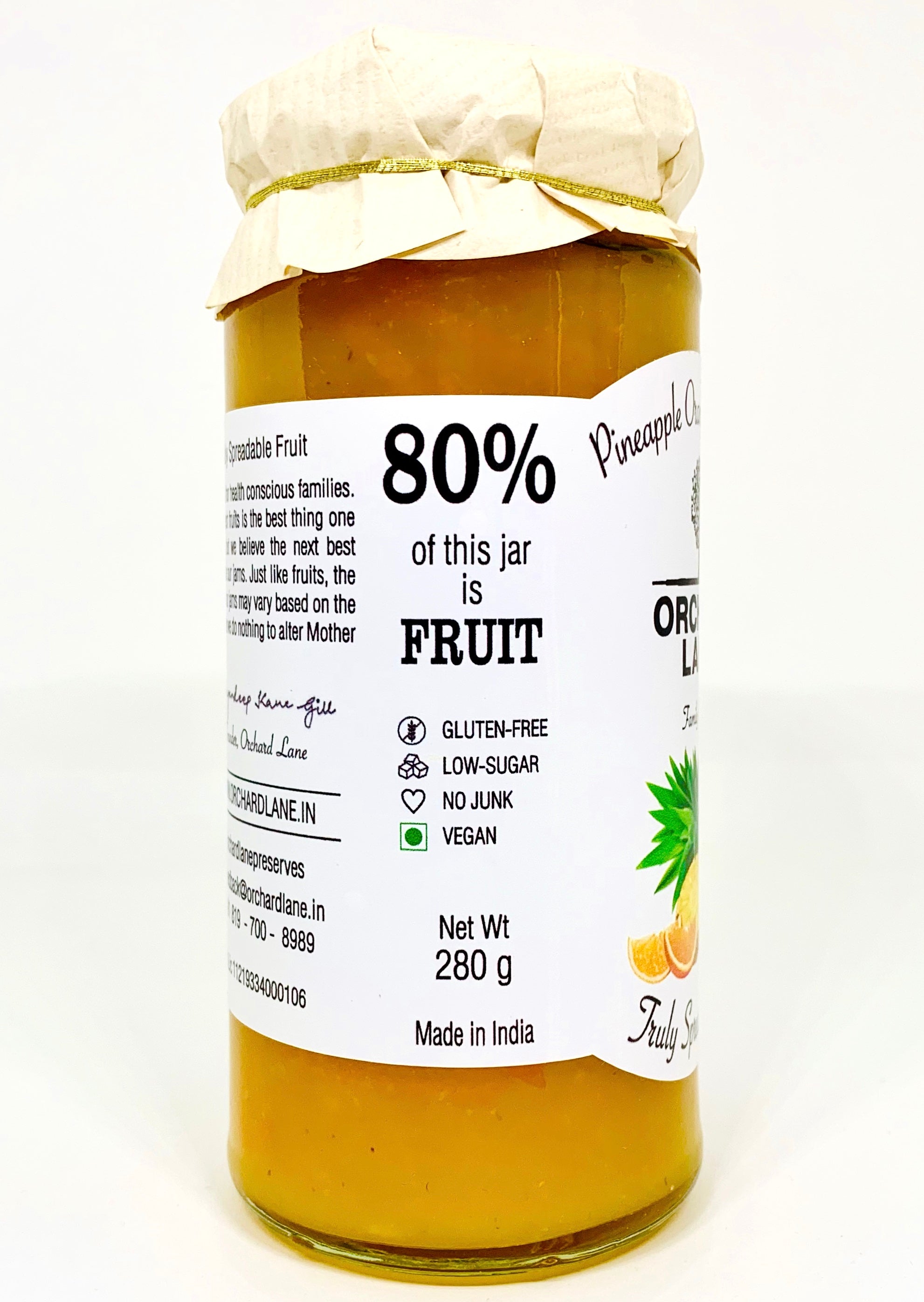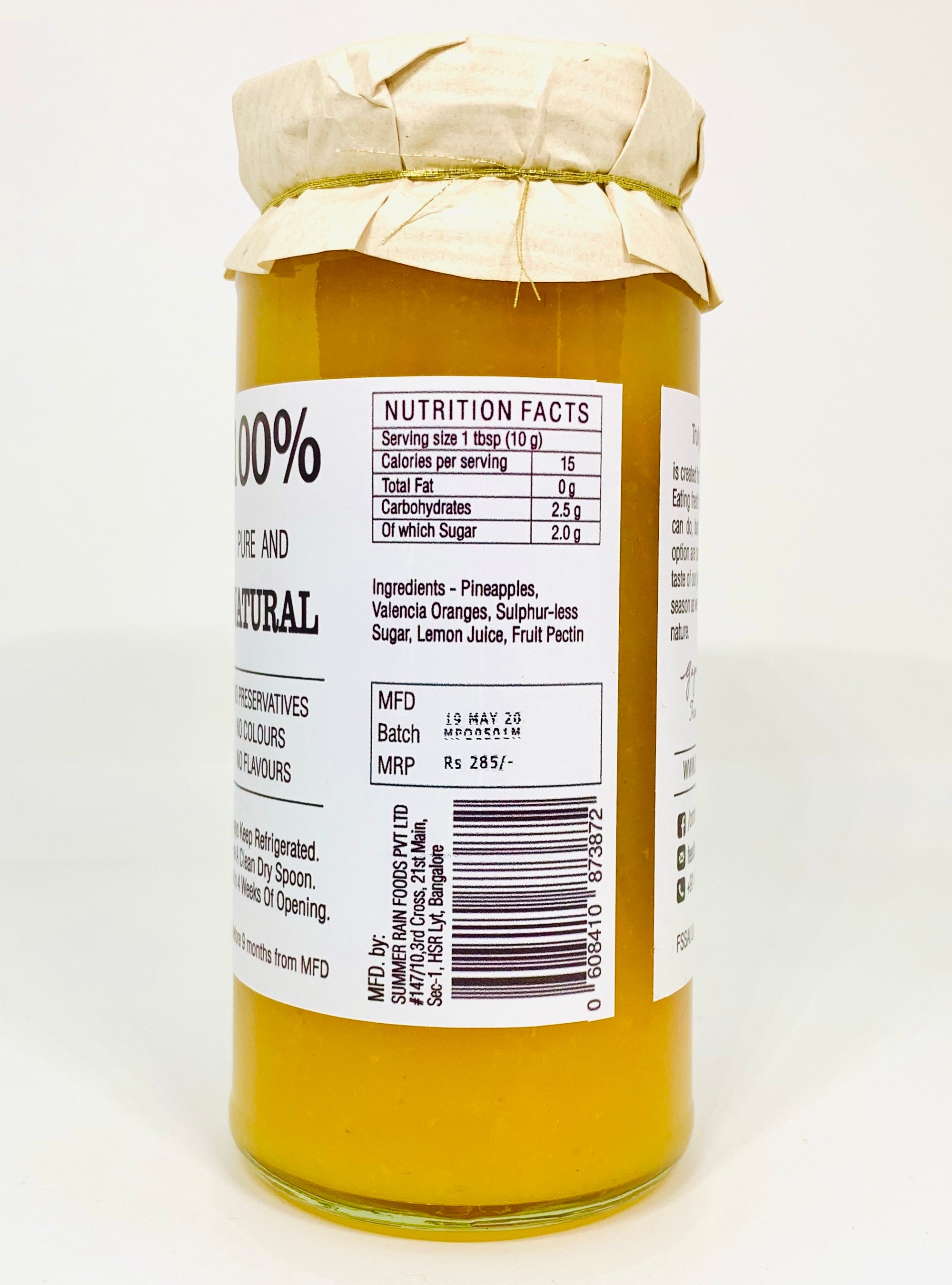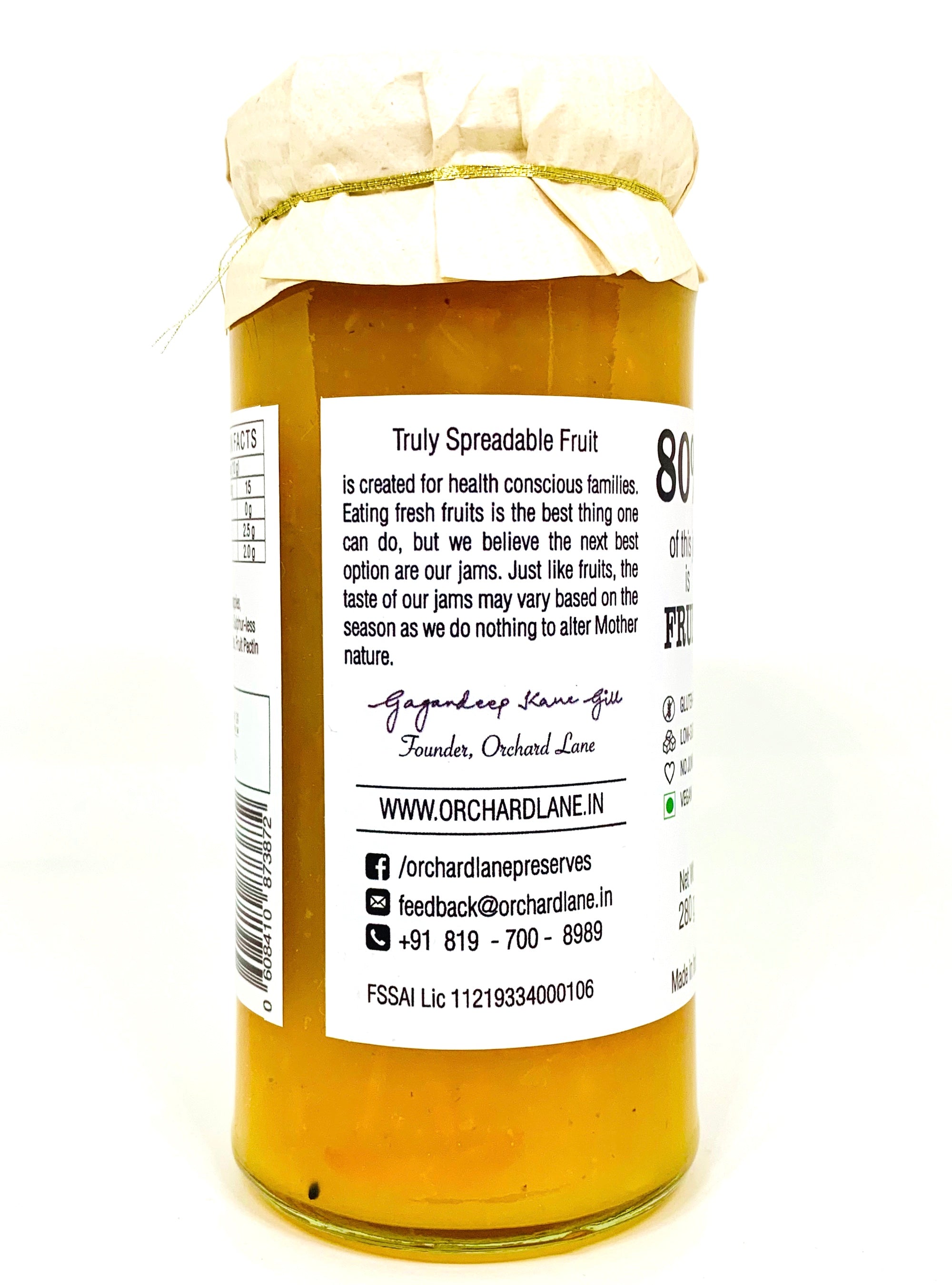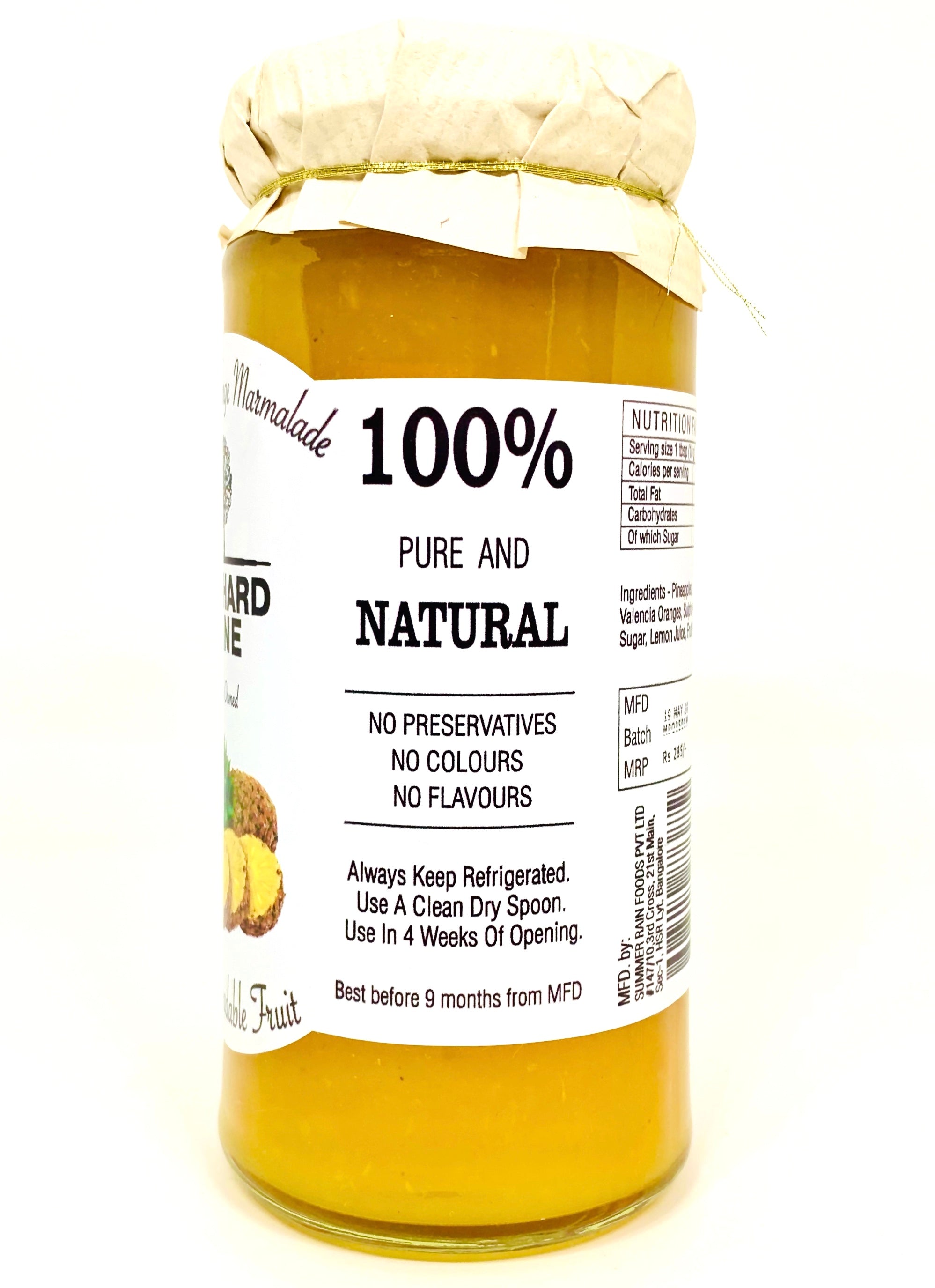 Truly Spreadable Fruit
Pineapple & Orange Marmalade
Out of stock
No Added Preservatives, Colours or Flavours. 80% Fruit
This is a juicy spread full of huge chunks of pineapple. The tropical flavours of pineapple are complimented with subtle freshness of valencia oranges. Fine slivers of orange peel add the zest and the resultant marmalade is the perfect way to start your mornings. Best paired with breads and cakes, the juicy texture of this marmalade makes a wonderful drizzle to soak your tea cakes.
Orchard Lane Pineapple Orange Marmalade is high in fruit content ( 80% fruit whereas the common standard is to have 50% fruit only). This is a wonderful juicy fruit spread filled with chunks of pineapples, thin, delicate slivers of valencia oranges and bare minimum sugar.

For those who find marmalades are too intense and bitter, this is a less intense option. Orchard Lane Pineapple Orange Marmalade is fruity and delicious, and not bitter at all.

We use Valencia oranges that come all way from South Africa and pineapples from southern India.

Made for the health conscious. Each teaspoon( 5 grams ) contains only 7 calories and just 1 gram of sugar that we added. Our goal is to facilitate the eating of more fruit and not sugar.

Made in India in a women-led enterprise, the production work is done by local women who take immense pride in creating products that add value to the lives of our consumers.
Ingredients
:
 Pineapples, Valencia Oranges, Sulphur-free Cane Sugar, freshly squeezed lemon juice, fruit pectin
Good for you: With 80% fruit content, each jar of our jam takes around a kilo of fruit to get made. Which means that with every spoonful of jam you also serve yourself a healthy portion of fruit.
High Nutrition: All our jams are just lightly cooked, to ensure that the nutrition content is kept intact.
Good for the environment: We only use glass jars and metal lids as these are the safest packaging materials from health perspective. Yet we do not use any plastic or bubble wrap to package them. We only use paper, corrugates, grass, shredded paper to ship our products. 
Quick Ideas with this jam
Without complicating matters, this is a sure shot way of enjoying this delectable, juicy marmalade. Break it into a warm croisaant with a cuppa.
For those road trips, when everyone needs something filling, and yet want something tangy and citrusy. Simply roll into into hot puris and pack. Watch them dissappear half way through the ride.
You can make these ahead of time and refrigerate. You will need:
8 empty tart shells
8 digestive cookies- crushed with 2 tablespoon butter
Half a cup flour.
30 gm cold butter
40 gm castor sugar
Cut the butter into the flour with a pizza cutter and rub with your fingers till it looks like bread crumbs. Add the castor sugar and mix.
Add 4 tablespoon of Pineapple Orange Marmalade and gently mix.
Spoon into the tart shells. Bake in a preheated oven at 170 degrees for 18-20 minutes.