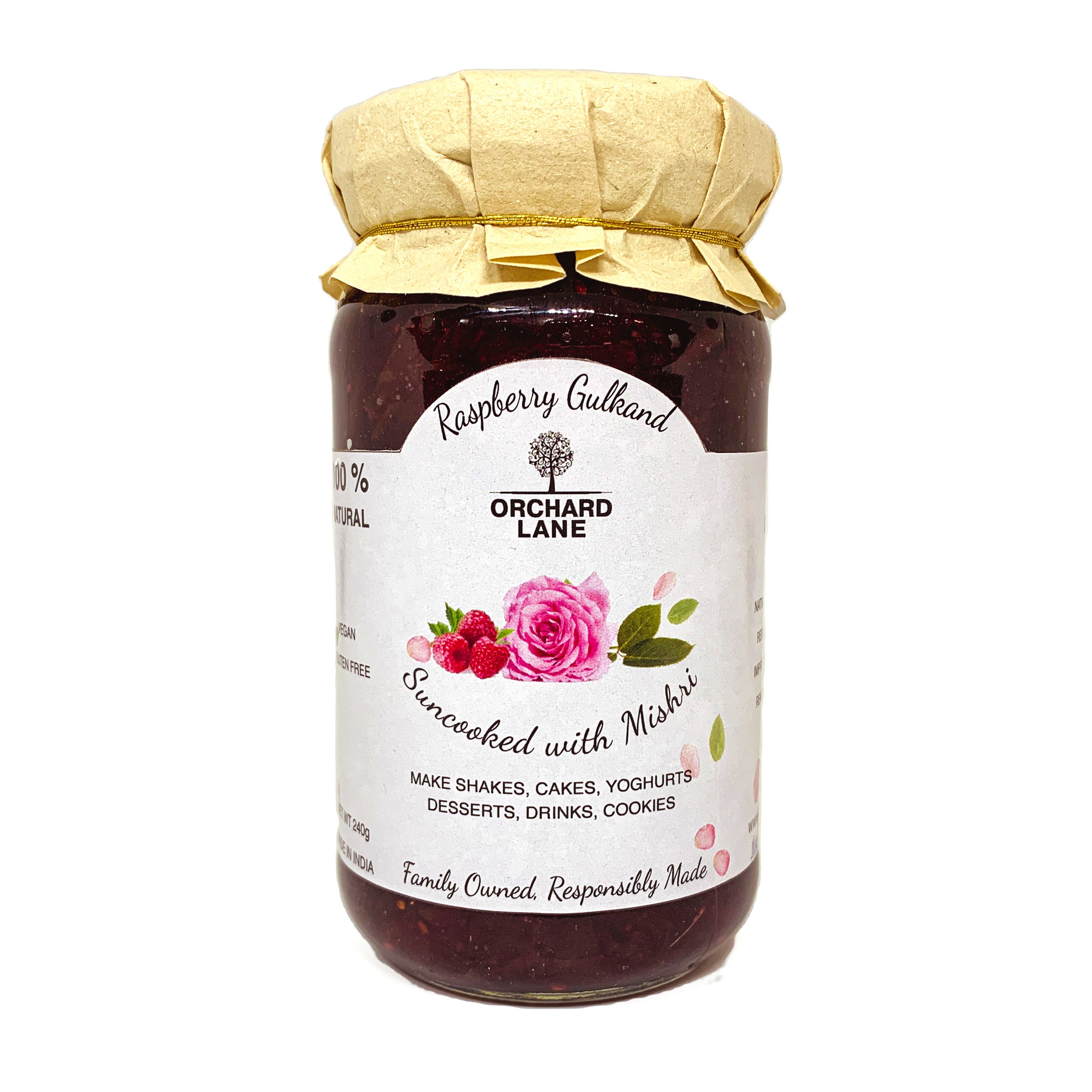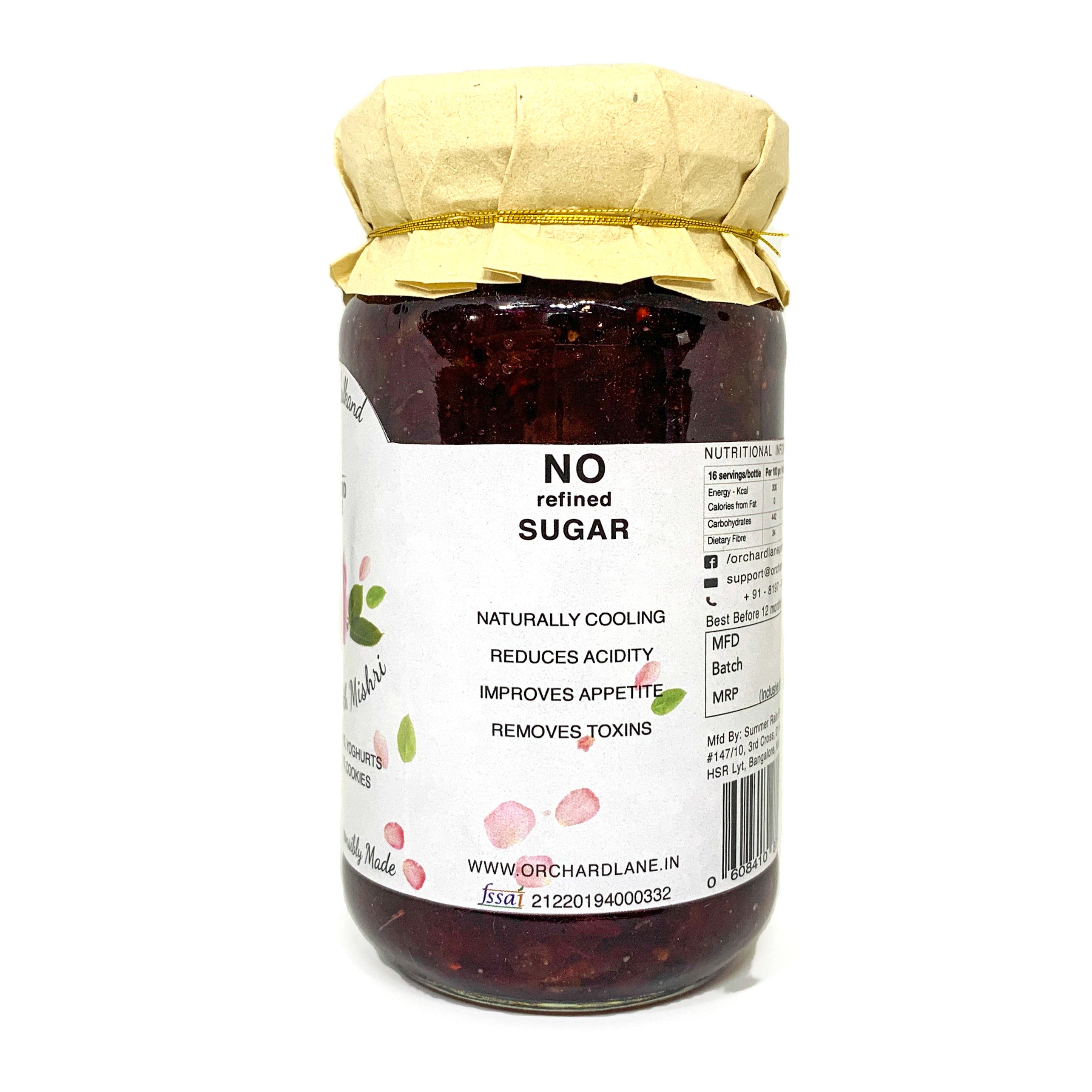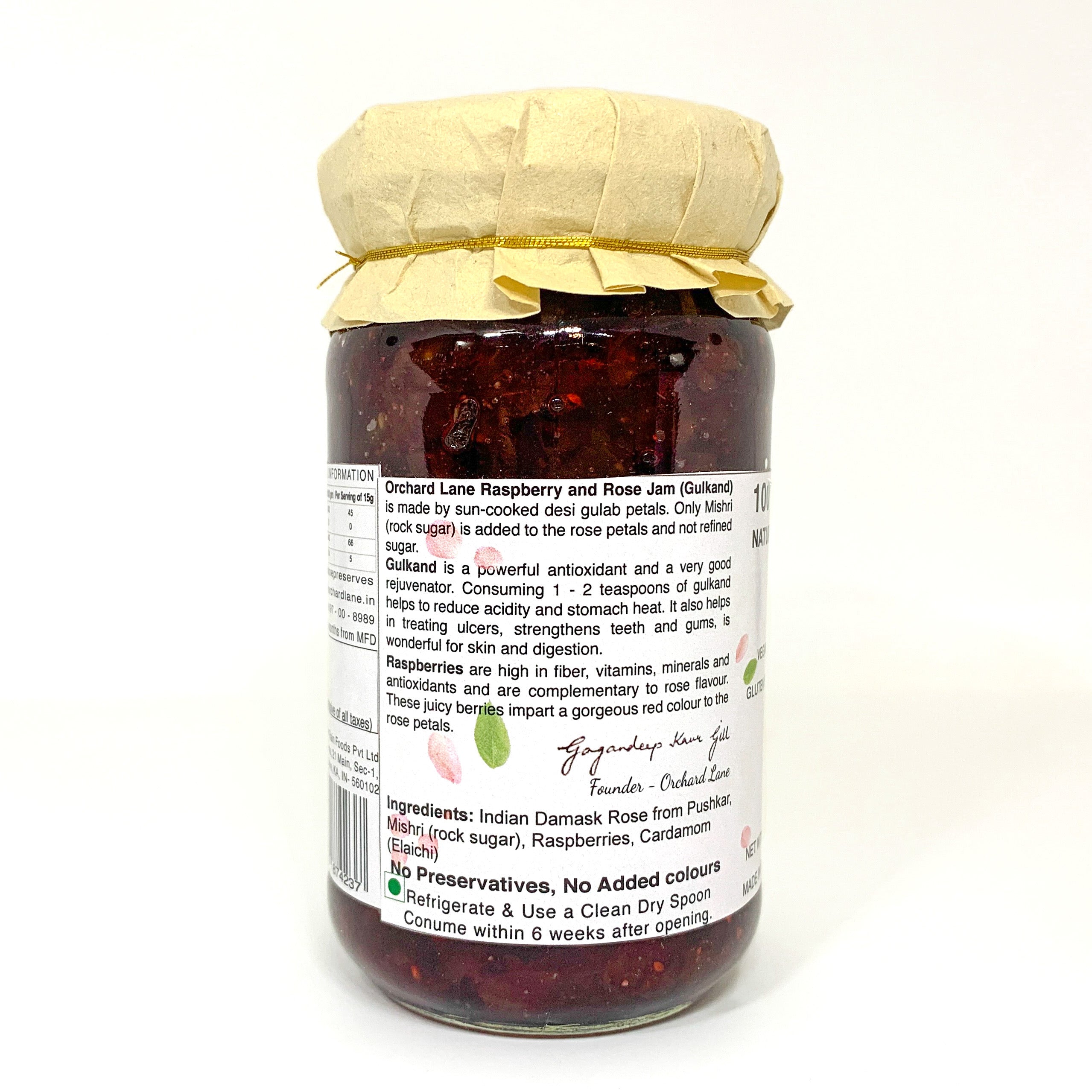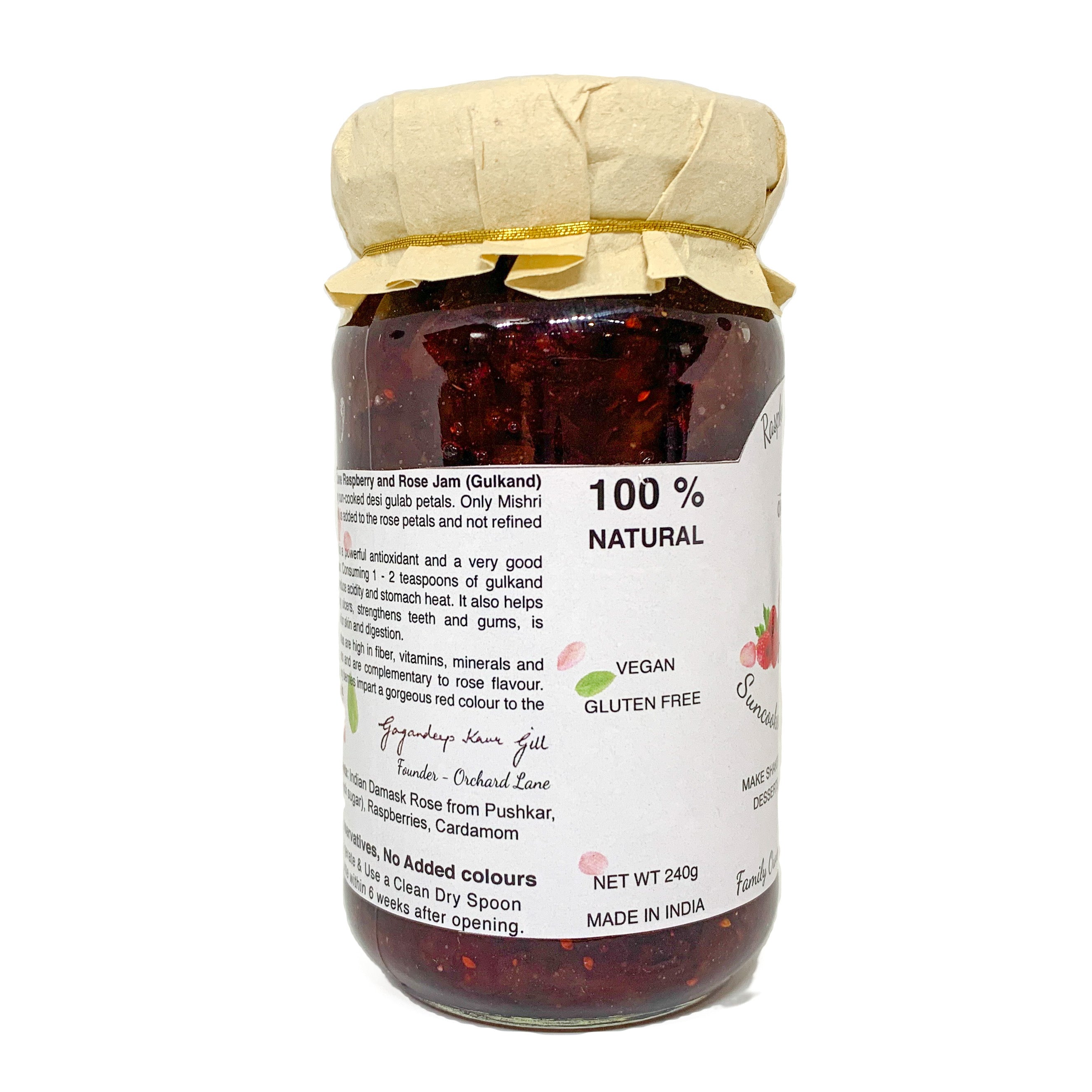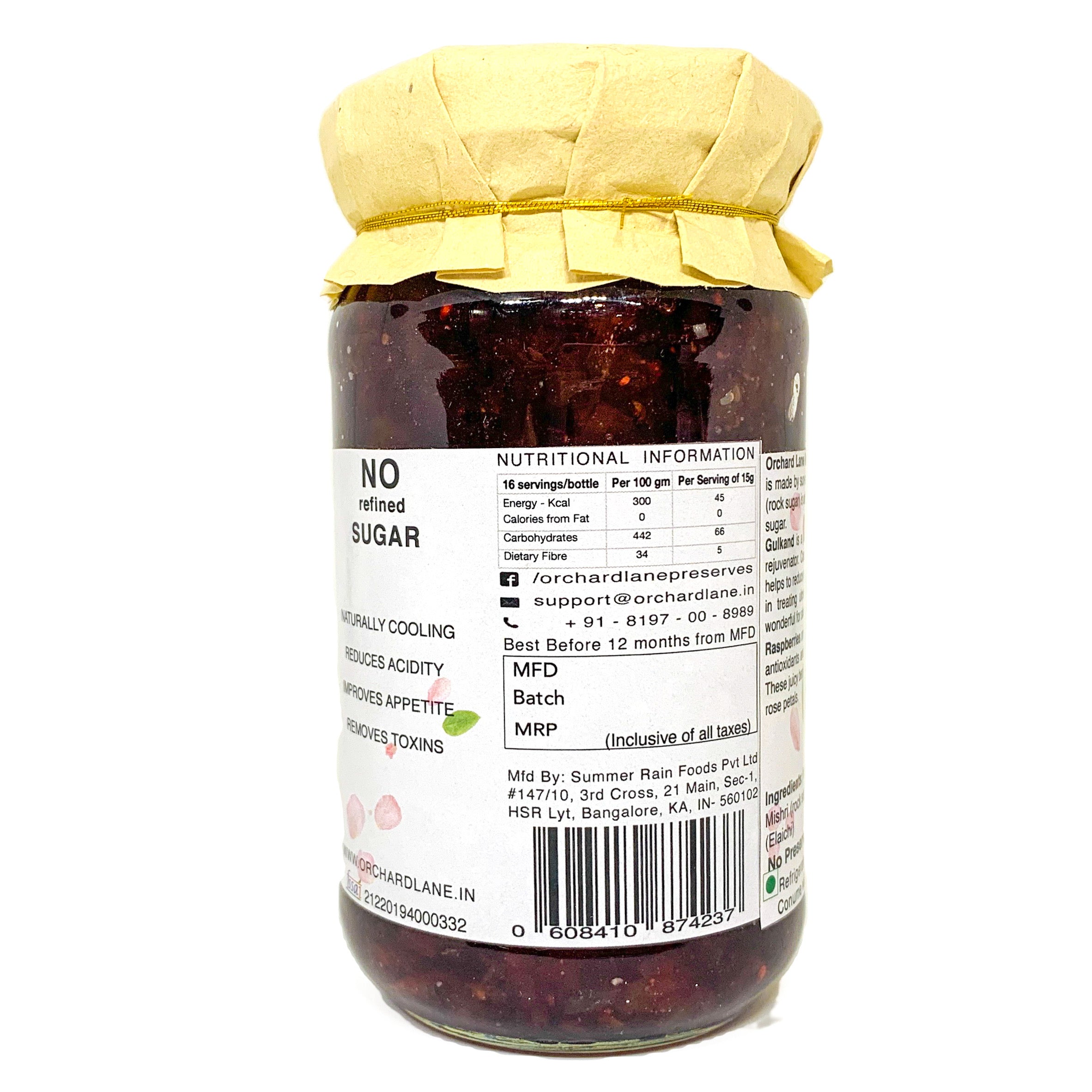 Truly Spreadable Fruit
Raspberry Gulkand - Suncooked Damask Rose petals with Mishri, Elaichi
Out of stock
No Added Preservatives, Colours or Flavours. 80% Fruit
Orchard Lane Raspberry Gulkand is made from suncooked rose petals using only mishri ( rock sugar) as sweetener and not refined sugar.

The burst of juicy raspberries adds the much needed colour to the traditional gulkand, while allowing the flavour and taste of Indian Damask roses to shine through.

Raspberries are complementary to roses and do not alter the rose flavour and hence Raspberry Rose jam is a fine delicacy traditionally made in the west as well. Raspberries are great antioxidants and are high in fibre, vitamins and minerals.

Gulkand is a powerful rejuvenator that helps those suffering from acidity, fatigue, indigestion or mental stress. It has natural cooling properties and is a stress reliever. For those who are blessed with a good health, a teaspoon of gulkand taken regularly ensures that the skin, digestion, appetite and general wellness is maintained.

This Gulkand has a wonderful pink colour and will bring brightness to whatever food you add it to. Try it with milkshakes, lassi, ice cream. Or bake a raspberry rose flavoured cake instead. Cookies, desserts and mocktails - the options are endless and benefits are huge
Damask Rose Petals, Mishri ( Rock Sugar), Elaichi (Cardamom), Raspberries
Quick Ideas with this Gulkand
The most refershing way to enjoy milk , simply add a spoonful of gulkand to a glass of milk ( 180 ml) and blend- either with hand or with a mixer).
In a bowl of curd, simply stir a spoonful of our gulkand and have as dessert post a meal. The probiotics in curd help to strenghten the immune system and gulkand helps to cool and purify the system.
Khoya barfi and Khoya peda, both stuffed with gulkand are a hit with everyone in famly - no matter what the occassion is.
Make your desserts royal with the touch of this bright gulkand.